Camp Staff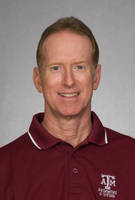 Steve Bultman
Head Coach, TAMU Women's Swimming
One of the nation's most respected and innovative swim coaches, two-time U.S. Olympic Team coach and 2015 American Swim Coaches Association Hall of Fame inductee, Steve Bultman has overseen one of the most dramatic rises to power in college swimming history since taking over the reins of the women's swimming and diving program at Texas A&M in 1999.

When Bultman was hired at Texas A&M on June 2, 1999, the Aggies had never finished higher than third at the conference championships or in the top 10 at the national meet. Under Bultman, the Aggies have finished lower than second at a conference meet just twice and strung together an 11-year streak of top 10 finishes at the NCAA Championships. After four-straight fourth-place finishes at the NCAA Championships from 2013-16, the Aggies tallied their highest NCAA finish ever in 2017 with a third-place effort at the NCAA Championships. A&M put together another great showing at the national meet and eventually took third again in 2018.

Before his arrival, Texas A&M had never won a conference team title, but now owns Big 12 Conference championship trophies from 2007, 2008, 2010 and 2012, claimed four consecutive SEC Championships from 2016-2019. He is also a nine-time conference Coach of the Year, and has earned Coach of the Meet honors seven times. Under his direction, Texas A&M produced its first NCAA individual titles with a pair of wins from Julia Wilkinson and Alia Atkinson at the 2010 NCAA Championships. Since Wilkinson and Atkinson's breakthrough wins, the Aggies have logged eight more individual crowns -- seven by swimmers Cammile Adams, Breeja Larson, Paige Miller and Sarah Henry and one by diver Jaele Patrick.

Not surprisingly, every school record has been broken during the Bultman era. The oldest school standard on the A&M record board is from 2012. The Aggies left the Big 12 Conference after the 2012 season holding or sharing 12 conference marks, and set five SEC meet records in A&M's first season in 2012-13. Larson's development as one of the U.S.'s top entries in the breaststroke has yielded the NCAA, US Open and American record in the 100- and 200-yard breaststroke.

Bultman's influence isn't confined to the collegiate ranks. He has been named to the U.S. Olympic Team coaching staff twice and to a variety of other Team USA coaching staffs, including the 1985 Pan Pacific Games, the 1989 LEN Cup, the 2001, 2009 and 2015 World University Games and the 2013 World Championships.

Bultman was named to the 2012 U.S. Olympic coaching staff after Larson and Adams earned their trips to the London Olympics with the program's first-ever wins at the U.S. Olympic Team Trials (Larson in the 100-meter breaststroke and Adams in the 200-meter butterfly). Larson went on to place sixth in the 100 breast and earn a gold medal with Team USA's 400 medley relay, while Adams placed fifth in 200 fly for the highest Olympic finish ever by a current Aggie swimmer. In total, nine current or former A&M swimmers under Bultman competed in London – Adams, Triin Aljand (Estonia), Alia Atkinson (Jamaica), Erica Dittmer (Mexico), Liliana Ibanez (Mexico), Larson, Rita Medrano (Mexico), Kim Pavlin (Croatia) and Julia Wilkinson (Canada).

He was named to the 1988 U.S. Olympic Team coaching staff after three of his swimmers – Beth Barr, Andrea Hayes and Daniel Watters -- from the Greater Pensacola (Fla.) Aquatic Club (GPAC) advanced to Seoul, South Korea.

The 2016 Olympics featured two current Texas A&M swimmers and three more of Bultman's former pupils – Beryl Gastaldello (France) and Sydney Pickrem (Canada) from the 2016 squad, as well as Adams, Atkinson and Ibanez. Bultman served as an assistant coach for Mexico in Rio de Janeiro, Brazil.

In 2008, Bultman served on the coaching staff for the Estonia Olympic Team. Four of members of his 2008 Texas A&M squad joined him at the Beijing Olympic Games – Aljand, Atkinson, Christine Marshall (USA) and Wilkinson. Marshall was the first-ever Aggie to earn a spot on the U.S. Olympic Team and she earned the first-ever Olympic medal (bronze with the 800 free relay) in program history.

Prior to Texas A&M, Bultman served as an assistant swimming coach at the University of Georgia (1995-99) and LSU (1990-91 and 1969-70) and was a successful club coach in Atlanta, Ga. (Dynamo Swim Clu, 1991-95), Boca Raton, Fla. (Mission Bay Makos, 1989-90), Pensacola, Fla. (GPAC, 1980-89, 1975-79), Nashville, Tenn. (Nashville Aquatic Club, 1979-80), and New Orleans, La. (Lynn Park Pirahnas, 1970-75). In 2011, Bultman was a member of the inaugural GPAC Hall of Fame class.