Camp Staff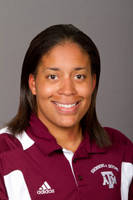 Tanica Jamison
Associate Head Coach, TAMU Women's Swimming
A key figure in Texas A&M's rise into one of the nation's elite swimming and diving programs, Tanica Jamison was elevated to associate head coach in 2016 by head coach Steve Bultman after five seasons as his top assistant.

Jamison, who was originally hired on July 7, 2011, has been instrumental in the development of multiple Olympians while at Texas A&M, including Olympic finalists Cammile Adams, Breeja Larson and Sydney Pickrem, and the team has finished in the top 10 at the NCAA Championships every year during her time with the Aggies. Jamison helped lead the Aggies to the Big 12 Conference team title in 2012 and the SEC team crown in 2016. The last four years, the Aggies have matched their program-best fourth-place finish at nationals. Eighteen of the Aggies' 19 current swimming school records have been set since Jamison's arrival, including four relay school standards.

Prior to coming to A&M, Jamison worked closely with the sprinter and middle distance groups for the University of Pittburgh's swimming and diving teams and also served as the head senior coach of Team Pittsburgh. In 2010-11, Panther swimmers earned five All-Big East awards and broke four school records.

An 11-time All-American and two-time NCAA Champion at the University of Texas under then-head coach Jill Sterkel, Jamison was the 2000 Big 12 Freshman and Newcomer of the Year, earned the Leadership Award in 2001 and 2002, was a two-time team captain and was selected as the team's MVP in 2003.

Jamison has a long-time association with the National Diversity Select Camp, which began when she was a three-time participant in the mid-1990s and continued when she was invited to serve as a National Team athletic representative in 2007 and head coach 2011.

Born in Monongahela, Pa, Jamison graduated from the University of Texas with a bachelor's degree in applied learning and development in 2003.