Camp Staff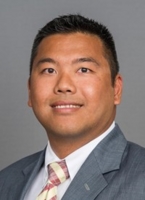 Jason Calanog
Assistant Coach, TAMU Men's Swimming
Energetic and motivating, former Bolles School swimming coach Jason Calanog is in his second year as an assistant coach at Texas A&M.

Hired on June 5, 2015, Calanog's infectious positivity and attention to detail paid immediate dividends as the Aggies returned to the top 25 at the NCAA Championships in his first season with the program. In his initial season in Aggieland, Texas A&M finished No. 25 at the national meet, had two school records broken and compiled a 7-1 dual meet record, which was the team's best in more than a decade.

Prior to coming to Texas A&M, Calanog served as a senior assistant coach at The Bolles School in Jacksonville, Fla., from 2007-15. During his time with the club team, his swimmers set multiple national age group records and qualified for the Olympic Games and FINA World Championships, as well as the Junior World Championships, U.S. Nationals and Junior Nationals.

Calanog was named a USA National Team coach in 2016 and served as a USA National Junior Team coach the previous three seasons. He was also tabbed as the head coach of the USA Swimming Diversity Camp West team in 2014.

Calanog has a long history of coaching with the Philippines National Team. He was the Philippines head coach for the 2010 Pan Pacific Games (Irvine, Calif.) and the 2009 FINA World Championships (Rome, Italy). He was also an assistant coach for the Philippines National Team at the 2008 Olympic Games in Beijing, China, as well as the 2007 and 2009 South East Asian Games.

Calanog added to his swimming repertoire by serving as television analyst for the Florida Swim Network's recap show at the Florida High School Athletic Association's state swimming championships in 2014. He was a reporter for the Florida Swim Network at the 2015 NCAA Men's Swimming and Diving Championships.

Calanog served as volunteer assistant coach for then-head coach Sergio Lopez and the West Virginia Mountaineers from 2006 to 2007. He helped the Mountaineer men's team to the 2007 Big East team title and the women's team to its highest conference finish in school history. He also was an assistant coach for the West Virginia Aquatics club team.

Calanog, who is married to the former Tracey Mascola, earned his bachelor's degree in multidisciplinary studies with a concentration in business administration, communications and economics from West Virginia in 2007.