Camp Staff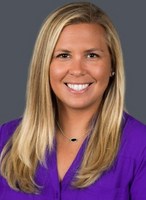 Caroline Maxvill
Assistant Coach, Women's Team
Caroline Maxvill returns to Aggieland after three seasons as an assistant coach at LSU. Prior to her stint with the Tigers, Maxvill served as an assistant coach at Miami for three seasons.

Maxvill helped develop one of the top breaststrokers in LSU history as Niamh Robinson moved up to No. 3 all-time in LSU history in the 100 breast and No. 1 in the 200 breast. At the SEC Championships, Robinson finished in fifth place in the 200 breast and sixth in the 100 breast.

Maxvill played a huge role in many Lady Tigers breaking school records over the 2018-19 season, including both Haylee Knight and Summer Spradley, who set school records at the 2019 Swimming & Diving SEC Championships. Knight set the school record in the 100-Yard Butterfly with a time of 51.71 and Spradley set a school record in the 200-Yard Breaststroke with a time of 2:10.03.

During her tenure with Miami, she played a crucial role in the development of Angela Algee, a two-time NCAA qualifier. Algee, along with Christina Leander, also made it to the U.S. Olympic Trials in 2016.

Prior to her time at Miami, Maxvill spent two seasons as a graduate assistant at TCU. The native of Dallas was also the head swimming & diving coach at Athens (Texas) High School in 2012-13.

Maxvill is also an accomplished swimmer herself. After winning the 2007 Texas 4A State Championship in the 100-yard breaststroke for J.J. Pearce High School, Maxvill qualified for the 2008 Olympic Trials in the 200-meter breaststroke as a member of the Metroplex Aquatics club team.

A four-year letterwinner at Texas A&M, Maxvill helped the Aggies win two Big 12 Titles in 2008 and 2010, and earned CSCAA Scholar All-America honors in 2010. She graduated with a bachelor's degree in Interdisciplinary Studies-Education from Texas A&M and with a master's degree in Liberal Arts from TCU.